A Christmas Carol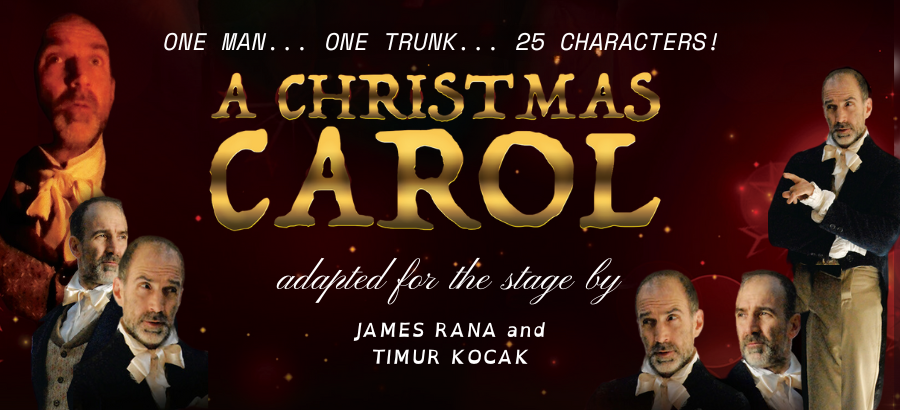 Tickets: $49 | Lunch Box Matinee 
____
ONE MAN… ONE TRUNK… 25 CHARACTERS! 
Adapted for the stage by James Rana and Timur Kocak 
With only the aid of a steamer trunk, Timur Kocak plays all 24 roles in this dynamic 70-minute one man version of Charles Dickens' 1843 holiday classic, A Christmas Carol! Spirited fun for all ages, this show was adapted for the stage by James Rana and Timur Kocak. 
"…BRILLIANT—TRULY ELECTRIC"
  – GAY P. BENNINGTON, VT 
"SHEER YULETIDE JOY"
– NANCY S. NAPLES, FL 
"SPELL-BINDING"
 – HIDDEN HARBOUR MONTHLY MINUTES
THIS EVENT IS A LUNCH BOX MATINEE: 
What is Lunch Box Matinee? 
When you purchase tickets for a Lunch Box Matinee, the price includes your ticket and your lunch! All Lunch Box Matinees are catered by TooJay's restaurant and presented in our Cabaret Theatre with tables setup for 4 people.
How does it work? 
When purchasing your ticket, you will be presented with menu options for your lunch. Select one lunch per ticket from the options, catered by TooJay's!
Lunch Options: 
Tuna Fish Sandwich
Roast Beef Sandwich
Turkey Sandwich
Corned Beef Sandwich
Veggie Wrap (on whole wheat wrap)
Chicken Caesar Salad
Each lunch option includes: 1 sandwich on seedless rye bread, 1 side of coleslaw, 1 pickle, 1 black & white cookie and a drink.  Please note, the salad option does not come with a pickle and coleslaw. Each lunch comes with the option for water, coke, diet coke, ginger ale, or sprite.
Related Events