Ann Landers: The Lady With All The Answers Starring Diane Seader By David Rambo
January 12 @ 12:30 PM

-

2:00 PM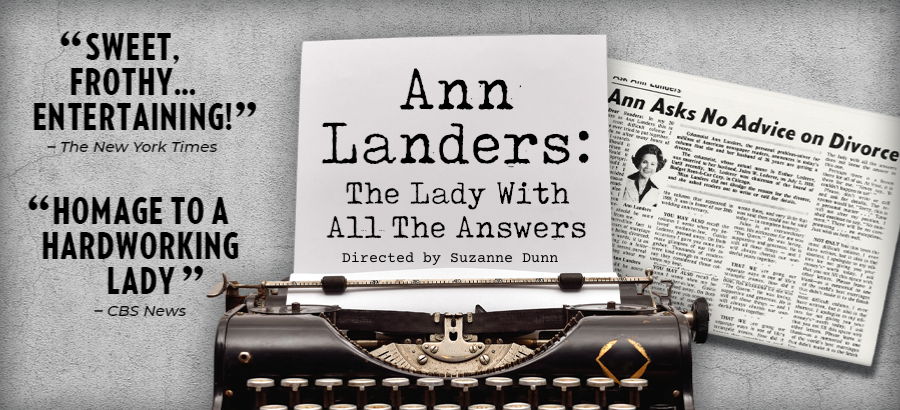 CABARET SEATING
*LUNCH BOX MATINEE AVAILABLE
Written by David Rambo
Directed by Suzanne Dunn at the Delray Beach Playhouse
Drawn from the life and letters of Ann Landers, with the cooperation of Margo Howard.
Originally produced by The Old Globe, San Diego, California
With wit, charm, and chutzpah, Ann Landers provided millions of Americans their daily dose of advice, etiquette, and encouragement. And for nearly half a century, one Eppie Lederer was Ann Landers. In this warm and funny one-woman play, drawn from her life and letters, Eppie comes to life on stage as she writes perhaps her most challenging—and personal—column.
Esther Pauline "Eppie" Lederer, better know as Ann Landers, took over the Chicago Sun-Times's 'Ask Ann Landers' column in 1955 after the death of its creator, Ruth Crowley. During the next 47 years, readers across the country wrote to Ann with questions about everything from sex and marriage, to how to properly hang toilet paper. Questions you may not feel comfortable discussing with your priest, friends, or even your spouse could be shared with Ann Landers. Lederer also weighed in on the more complex issues of the day, including politics, abortion and homosexuality. She became a media celebrity, yet still answered every letter herself, as long as it had a return address, and her column was enjoyed by millions along with their morning cup of coffee. This 2006 one-woman show, written by David Rambo is set in 1975 and was based on Lederer's letters and life stories.
---
"Sweet, frothy… entertaining!"
–The New York Times
---
"Charming and informing"
– Theatermania
---
"Homage to a hardworking lady"
– CBS News
---
LUNCH BOX MATINEE OPTIONS 

1 Lunch choice per Lunchbox Admission
Please look over the menu below and make your lunch selection by typing it in the remarks section which is located on the next page at checkout right below the payment information section.
Lunchbox menu options:
#1 Tuna Fish Sandwich
#2 Roast Beef Sandwich
#3 Corned Beef Sandwich
#4 Turkey Sandwich
#5 Veggie Wrap
#6 Chicken Caesar Salad
Each lunch option includes: 1 sandwich on seedless rye bread, 1 side of coleslaw, 1 pickle, 1 black & white cookie and 1 bottled water. Salad option does not come with pickle and coleslaw. The Veggie Wrap is on a whole wheat wrap.
If you do not want bottled water, please make your substitution option for choice of drink in remarks section at checkout. Your options are:
Coke, Diet Coke, Sprite or Ginger Ale
Related Events