Artists & Masterpieces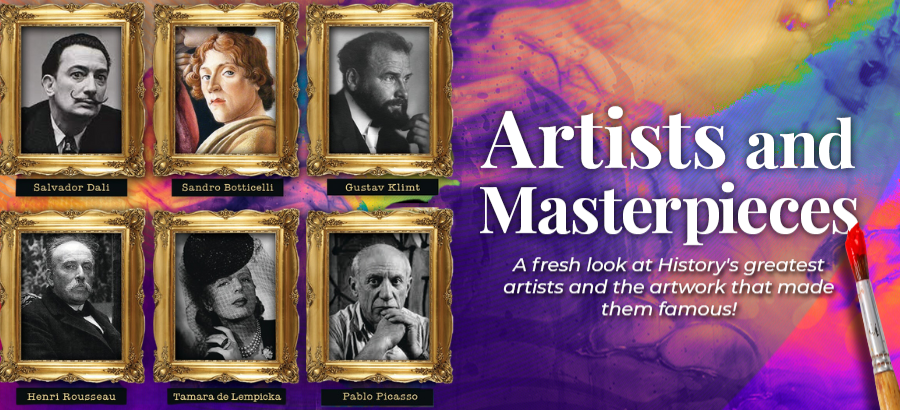 All Tickets: $49 | Lunch Box Matinee 
____
A FRESH LOOK AT HISTORY'S GREATEST ARTISTS AND THE ARTWORK THAT MADE THEM FAMOUS!
Each Artists is presented with a montage of some of their greatest artworks set to beautiful music, creating a unique and greatly enhanced visual and educational experience. A short analysis of the significance and influence of each Artist will follow each presentation. A brief question and answer session will occur after all of the Artists presentations, allowing the audience an opportunity to truly immerse themselves in what are some of the greatest art pieces of all time. This artist in this series includes: 

Salvador Dali
Sandro Botticelli
Gustav Klimt
Henri Rousseau
Tamara de Lempicka
Pablo Picasso 
THIS EVENT IS A LUNCH BOX MATINEE: 
What is Lunch Box Matinee? 
When you purchase tickets for a Lunch Box Matinee, the price includes your ticket and your lunch! All Lunch Box Matinees are catered by TooJay's restaurant and presented in our Cabaret Theatre with tables setup for 4 people.
How does it work? 
When purchasing your ticket, you will be presented with menu options for your lunch. Select one lunch per ticket from the options, catered by TooJay's!
Lunch Options: 
Tuna Fish Sandwich
Roast Beef Sandwich
Turkey Sandwich
Corned Beef Sandwich
Veggie Wrap (on whole wheat wrap)
Chicken Caesar Salad
Each lunch option includes: 1 sandwich on seedless rye bread, 1 side of coleslaw, 1 pickle, 1 black & white cookie and a drink.  Please note, the salad option does not come with a pickle and coleslaw. Each lunch comes with the option for water, coke, diet coke, ginger ale, or sprite.
Related Events