Home » Events » Deathtrap » Deathtrap

Deathtrap
April 1 @ 8:00 PM

-

10:00 PM

|

Multiple Performances

(See all)

One event on March 19, 2022 at 2:00 PM

One event on March 19, 2022 at 8:00 PM

One event on March 20, 2022 at 2:00 PM

One event on March 25, 2022 at 8:00 PM

One event on March 26, 2022 at 2:00 PM

One event on March 26, 2022 at 8:00 PM

One event on March 27, 2022 at 2:00 PM

One event on April 1, 2022 at 8:00 PM

One event on April 2, 2022 at 2:00 PM

One event on April 2, 2022 at 8:00 PM

One event on April 3, 2022 at 2:00 PM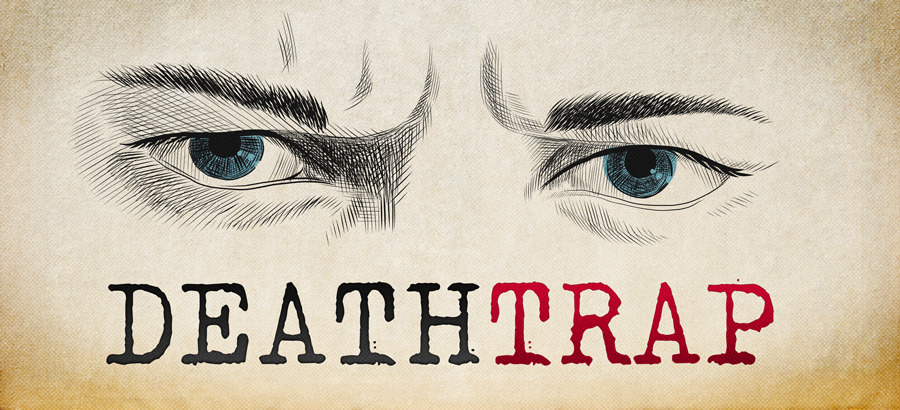 Tickets: $38 or Subscribe for AS LOW AS $129!
Ira Levin (the best-selling author of The Boys From Brazil and Rosemary's Baby)  conquered Broadway in 1978 with this spellbinding thriller which went on to play for over 1700 performances. It remains the longest-running mystery-thriller in Broadway history.
The play concerns a professional playwright who is experiencing a paralyzing writer's block when he receives the manuscript of a new play from a student. The student's play is so astonishingly good, the playwright quips to his wife that he would gladly kill to get his hands on such a script! He then devises a scheme to bring the student into his house to help him polish the play.
It isn't long before the plot of the student's play [which is called DEATHTRAP] begins to be played out in reality. Newsweek wrote that "DEATHTRAP is like a ride on a good roller-coaster when screams and laughs mingle to form an enjoyable hysteria." Walter Kerr of The New York Times was more direct. He simply wrote, "it's an absolute knockout!"
Details
Date:

April 1

Time:

Event Category:

Website:
Related Events
December 2 @ 8:00 PM

-

10:00 PM

|

Multiple Performances

(See all)

One event on December 3, 2022 at 2:00 PM

One event on December 3, 2022 at 8:00 PM

One event on December 4, 2022 at 2:00 PM

One event on December 9, 2022 at 8:00 PM

One event on December 10, 2022 at 2:00 PM

One event on December 10, 2022 at 8:00 PM

One event on December 16, 2022 at 8:00 PM

One event on December 17, 2022 at 2:00 PM

One event on December 17, 2022 at 8:00 PM

One event on December 18, 2022 at 2:00 PM

One event on December 11, 2022 at 2:00 PM

December 3 @ 2:00 PM

-

4:00 PM

|

Multiple Performances

(See all)

One event on December 3, 2022 at 2:00 PM

One event on December 3, 2022 at 2:00 PM

One event on December 4, 2022 at 2:00 PM

One event on December 9, 2022 at 2:00 PM

One event on December 10, 2022 at 2:00 PM

One event on December 10, 2022 at 2:00 PM

One event on December 16, 2022 at 2:00 PM

One event on December 17, 2022 at 2:00 PM

One event on December 17, 2022 at 2:00 PM

One event on December 18, 2022 at 2:00 PM

One event on December 11, 2022 at 2:00 PM

December 3 @ 8:00 PM

-

10:00 PM

|

Multiple Performances

(See all)

One event on December 3, 2022 at 2:00 PM

One event on December 3, 2022 at 8:00 PM

One event on December 4, 2022 at 2:00 PM

One event on December 9, 2022 at 8:00 PM

One event on December 10, 2022 at 2:00 PM

One event on December 10, 2022 at 8:00 PM

One event on December 16, 2022 at 8:00 PM

One event on December 17, 2022 at 2:00 PM

One event on December 17, 2022 at 8:00 PM

One event on December 18, 2022 at 2:00 PM

One event on December 11, 2022 at 2:00 PM