Funny Women Of A Certain Age
February 14, 2024 @ 12:30 PM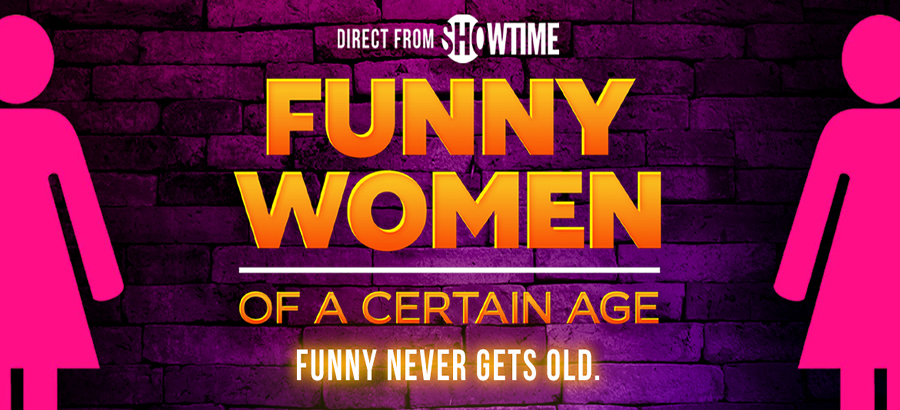 Tickets: $45- $59* | *Lunch Box Matinee Optional (Lunch starts at 1PM followed by a 2PM show) 
____

FUNNY WOMEN OF A CERTAIN AGE® is a show straight from the unfettered mouths and uninhibited minds of the funniest, most daring, most experienced people in comedy: the women that have seen it all.

They've raised children both on and off the road, having club bouncers watch their babies while onstage. These women have stayed in comedy condos where you don't want to use a blacklight on anything. They've been told women aren't funny and asked to trade sexual favors for work.
Trust us, they have A LOT to say and they say it hysterically.
Known as the comic's comic, Funny Women of a Certain Age® creator Carole Montgomery has already brought to the stage some of the most respected names in comedy including FRAN DRESCHER, LUENELL, JANEANE GAROFALO, CAROLINE RHEA, THEA VIDALE, KERRI LOUISE, CAROL LEIFER, JULIA SCOTTI, TAMMY PESCATELLI, FELICIA MICHAELS, CATHY LADMAN, VANESSA HOLLINGSHEAD, WENDY LIEBMAN, MONIQUE MARVEZ, LEIGHANN LORD and many more. These ladies prove that indeed #funnynevergetsold®
THIS EVENT IS A LUNCH BOX MATINEE: 
What is Lunch Box Matinee? 
When you purchase tickets for a Lunch Box Matinee, the price includes your ticket and your lunch! All Lunch Box Matinees are catered by TooJay's restaurant and presented in our Cabaret Theatre with tables setup for 4 people.
How does it work? 
When purchasing your ticket, you will be presented with menu options for your lunch. Select one lunch per ticket from the options, catered by TooJay's!
Lunch Options: 
Tuna Fish Sandwich
Roast Beef Sandwich
Turkey Sandwich
Corned Beef Sandwich
Veggie Wrap (on whole wheat wrap)
Chicken Caesar Salad
Each lunch option includes: 1 sandwich on seedless rye bread, 1 side of coleslaw, 1 pickle, 1 black & white cookie and a drink.  Please note, the salad option does not come with a pickle and coleslaw. Each lunch comes with the option for water, coke, diet coke, ginger ale, or sprite.
Related Events