Hank Williams & His Honky Tonk Trio
April 21 @ 7:30 PM

-

9:00 PM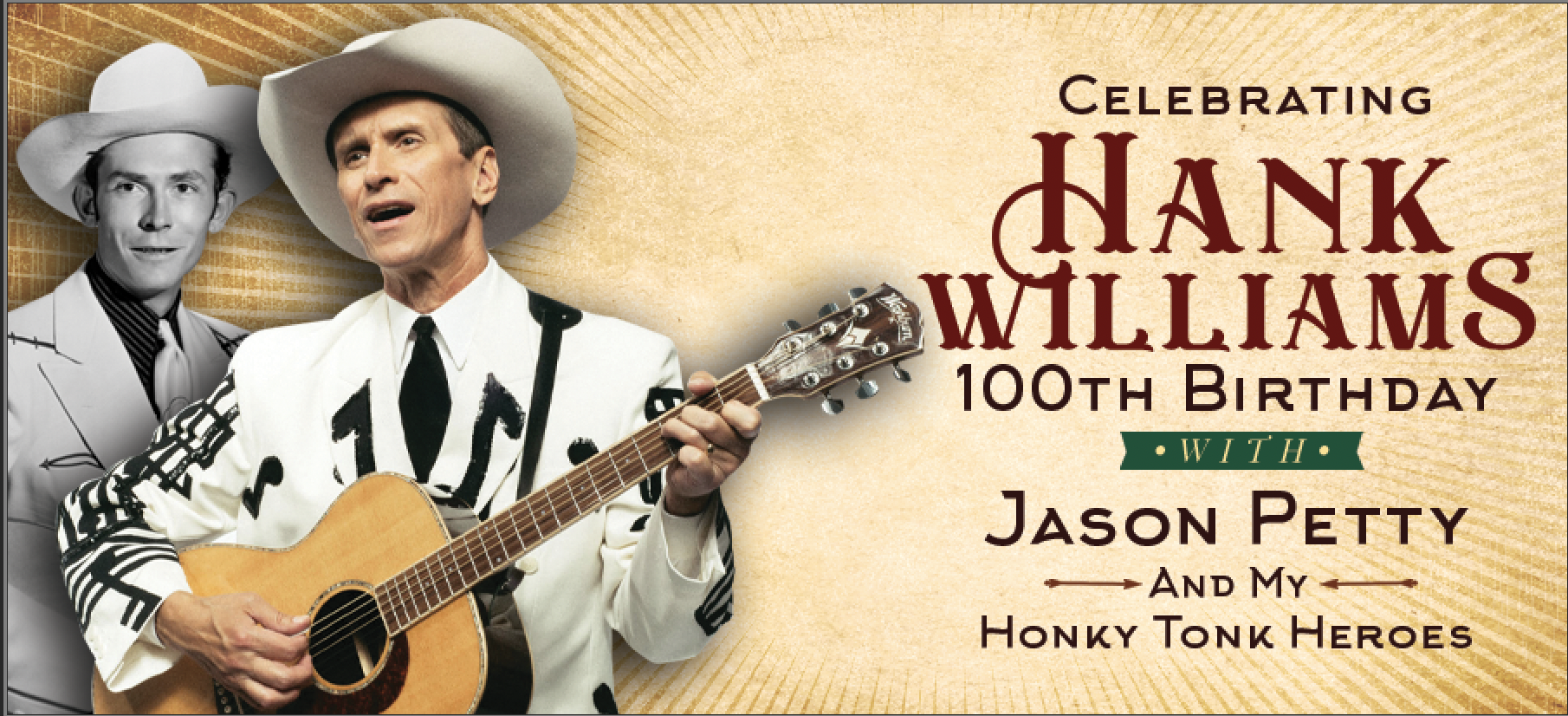 $45 All Tickets 
*CABARET SEATING
**LUNCH BOX MATINEE AVAILABLE 4/19 ONLY (see Menu below) 
CELEBRATE HANK WILLIAMS 100th BIRTHDAY WITH HANK & HIS HONKY TONK TRIO! 
THERE IS ONLY ONE HANK WILLIAMS…AND ONLY ONE ACTOR WHO CAN BRING HIM TO LIFE…JASON PETTY! Jason is the only actor to portray Hank Williams in New York City's hit Off-broadway musical, "Lost Highway", where he won an OBIE and multiple nominations for his performance. Only Jason Petty has portrayed hank in "lost Highway", at Nashville's world famous Ryman auditorium. You want more proof? Over A DOZEN appearances on the Grand Ole Opry stage, HUNDREDS of incredible reviews from the New York Times, Billboard, Rolling Stone, Entertainment Weekly, AND MORE! Thousands of shows played, millions of fans thrilled! 
Critics and audiences agree… JASON PETTY IS THE ORIGINAL AND THE BEST! 
Jason re-creates such Williams' hits as "I'm So Lonesome I Could Cry", "Your Cheatin' Heart", "Hey Good Lookin' ", "Kaw-Liga", "Cold Cold Heart", "Lovesick Blues" and many more. But this astonishing show is more than just a Hank Williams tribute, thus the title. Jason pays tribute to stars that influenced Hank and those stars that Hank influenced. Backed by an authentic four-piece band, "Hank and My Honky Tonk Heroes" will make you smile, make you cry, and make you clap your hands and stomp your feet with excitement.
Don't miss Jason's award-winning performance as he brings Hank's music back to life in this insightful, energetic show.
Jason also pays tribute to those who influenced Hank and those Hank influenced. Some of these artists include: Jimmie Rodgers, Roy Acuff, Ernest Tubb, The Carter Family, George Jones, Webb Pierce and more. This show is a MUST-SEE for all country music fans!
---
"I PLAYED WITH HANK FOR MANY YEARS AND I WAS HIS BEST FRIEND. NO ONE IN MY TIME HAS COME CLOSER TO HANK'S LOOK, SOUND AND NATURAL CHARISMA THAN JASON. HE'S THE BEST, HANDS DOWN!"
–Don Helms (1927-2008), Member Of The Drifting Cowboys (Hank's Band)
 "Jason Petty does a remarkably good job of rendering Williams' famous melodies with the silky warble and sob that recreate their touching simplicity."
– New York Times
---
LUNCH BOX MATINEE OPTIONS (click LUNCH W/ TIX)

1 Lunch choice per Lunchbox Admission
Please look over the menu below and make your lunch selection by typing it in the remarks section which is located on the next page at checkout right below the payment information section.
Lunchbox menu options:
#1 Tuna Fish Sandwich
#2 Roast Beef Sandwich
#3 Corned Beef Sandwich
#4 Turkey Sandwich
#5 Veggie Wrap
#6 Chicken Caesar Salad
Each lunch option includes: 1 sandwich on seedless rye bread, 1 side of coleslaw, 1 pickle, 1 black & white cookie and 1 bottled water. Salad option does not come with pickle and coleslaw. The Veggie Wrap is on a whole wheat wrap.
If you do not want bottled water, please make your substitution option for choice of drink in remarks section at checkout. Your options are:
Coke, Diet Coke, Sprite or Ginger Ale
Related Events