HISTORY SERIES SUBSCRIPTION
October 28, 2022

-

February 19, 2023
HISTORY FAN? WE'VE GOT A GREAT SERIES IN STORE FOR YOU! 
SEE ANY 4 SHOWS FOR JUST $149! 


Pick your FAVORITE FOUR shows out of our SIX show series! 
---
OCTOBER 28- 30, 2022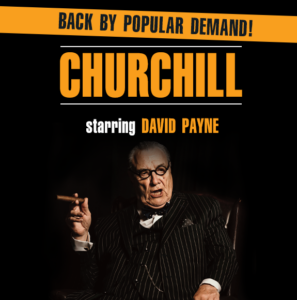 CHURCHILL IS COMING BACK TO THE PLAYHOUSE BY POPULAR DEMAND!!
Winston Churchill, has just been awarded honorary US citizenship by President John F. Kennedy. In recognition of this unprecedented occasion, The American-Oxford Society has asked the former Prime Minister to address them and discuss what this honor means to him.Audiences will be delighted to hear of his exploits during the Boer War, his constant battles with Britain's fellow politicians, his special relationship with America and America's presidents. But most telling of all, Churchill enlightens the audience with intimate and touching details of the two special women in his life—his wife Clementine and Queen Elizabeth. With elements of The Crown and The Darkest Hour, David Payne once again gives audiences an opportunity to spend an evening with one of the greatest historical figures in the world—Sir Winston Churchill.
---
NOVEMBER 4- 6, 2022 



"Tell Him It's Jackie" is the no holds barred critically acclaimed one woman show about Jackie Kennedy from young woman to First Lady of the United States.
Kait Haire, who bears an astonishing resemblance to the young Jackie Kennedy, portrays the former First Lady in a solo performance. The compelling narrative take place on June 5, 1968, the date of her brother-in-law Robert's assasination. Jackie invites us inside her life: growing up, college, her courtship with the dashing young future President, the birth of her children, her own becoming a beloved icon, her hobnobbing with the rich and famous, her husbands death, and her spiraling into depression and substance abuse. With her world crumbling around her, she decides on a course of action which will decisively change her and her children's future! Tell Him It's Jackie is a must-see for all those who have adored this iconic First Lady who still fascinates us today.

---
NOVEMBER 10-13, 2022

The riveting true story of SIMON WIESENTHAL, the "Jewish James Bond" who devoted his life to bringing more than 1,100 Nazi war criminals to justice.
WIESENTHAL is the story of AN ORDINARY MAN WHO DID EXTRAORDINARY THINGS. Written by and starring Tom Dugan, and directed by Jenny Sullivan, WIESENTHAL, filled with hope, humanity and humor, is the riveting true story of Simon Wiesenthal. Nicknamed the "Jewish James Bond," he devoted his life to bringing more than 1,100 Nazi war criminals to justice. Intelligent, funny, flawed and noble, Wiesenthal was a universal hero. His unbelievable dedication and tenacity over decades is honored in this play, which gives equal weight to his wisdom and wit during his long, purposeful life.
---
NOVEMBER 19- 20, 2022

*CABARET SEATING 
GIVE 'EM HELL, HARRY!  Written by Samuel Gallu, is a faithful and often humorous portrayal of President Harry S. Truman's life and presidency. It spans his childhood, his "political apprenticeship" as a judge in Jackson County, MO, his years in the US Senate and his momentous two terms as President. Actor James Whitmore originated the role in 1975. Clifton Truman Daniel took up the mantle in October 2017, marking the first time in history a US President would be portrayed onstage by a direct descendant….in this case, his oldest grandson.
---
JANUARY 20- 21, 2023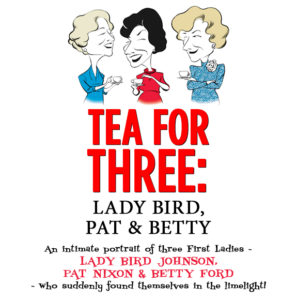 *CABARET SEATING 
Particularly pertinent in an era of heightened politics, TEA FOR THREE humanizes the political scene with a story both whimsical and deeply moving – a behind-the-scenes look at Lady Bird Johnson, Pat Nixon, and Betty Ford. Share the journey of each as she deals with the fishbowl of First Ladydom. Emmy Award-winning actress Elaine Bromka, with over thirty years in film, television, Broadway and Off-Broadway, starred as eight First Ladies opposite Rich Little in the PBS show The Presidents. Intrigued by their stories, she went on with playwright Eric H. Weinberger to create this one-woman show. A tale of a remarkable trio in a most unusual job – and eighty minutes of heartwarming delight!
---
FEBRUARY 15- 19, 2023 

Written by Tony Award Winning playwright RUPERT HOLMES!
Supreme Court Justice, Ruth Bader Ginsberg "RBG", welcomes a friend of the family to her cozy chambers to convey, over the course of ninety fascinating and often funny minutes, a sense of her life and its many trials: losing her mother the day before she graduated as valedictorian of her Brooklyn high school, being one of only nine young women studying law at Harvard while also raising a daughter and helping her husband battle cancer, fighting for women's rights in the nineteen-seventies before condescending all-male courts, and taking courageous stands for human rights as a voice of reason amid a splintering and increasingly politicized Supreme Court. Enjoy an evening with a great and compassionate icon of straight-thinking American justice, as Ruth Bader Ginsberg emerges not only "notorious" but victorious as she takes a stand for ordinary people facing the many challenges of a changing world. Bring your scrunchies, your hankies, your humor and your heart to this entertaining and uplifting event!
PICK ANY 4 SHOWS FOR JUST $149! 



Related Events