Love, Loss, And What I Wore
October 7, 2022 @ 7:30 PM

-

9:00 PM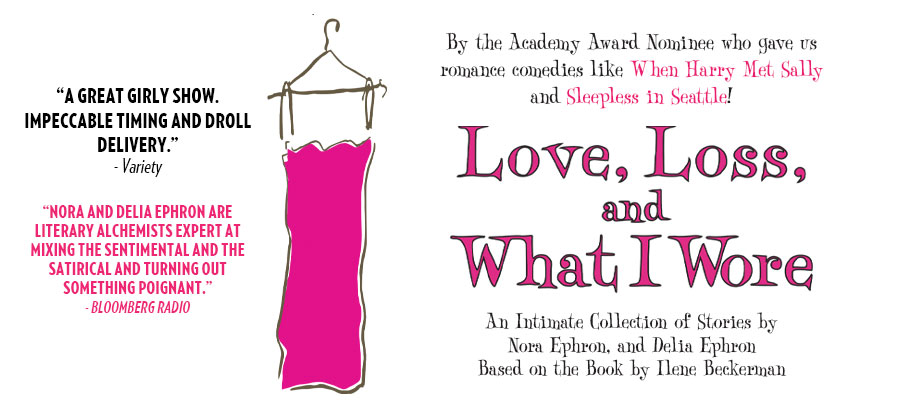 $33 Subscriber / $39 All Tickets 
*CABARET SEATING 
**LUNCH BOX MATINEE AVAILABLE (see Menu below) 
Love, Loss and What I Wore follows fragmented stories about the nostalgic power of women's clothing. A starry cast of seven women, enrobed in chic black, sit on stools and tell funny, wistful and universal memories about their families and loved ones through the prism of their closets. Like a long heart-to-heart with your best friend over coffee, the conversation meanders from a bittersweet story of a stepmother wearing the same style bathrobe as her husband's late wife (to the dismay of the children), to a couple's musings of what they wore on their wedding day, to a rant about loathing the need to carry a purse! With odes to black clothing, cowboy boots and outfits that makes mothers cringe, Love, Loss and What I Wore is unabashedly girly—in a good way.
This is a play of monologues and ensemble pieces about women, clothes and memory covering all the important subjects—mothers, prom dresses, mothers, buying bras, mothers, hating purses and why we only wear black. 
Based on the best-selling book by Nora Ephron and Delia Ephron. 
LUNCH BOX MATINEE OPTIONS (click TIX W/ LUNCH) 

1 Lunch choice per Lunchbox Admission
Please look over the menu below and make your lunch selection by typing it in the remarks section which is located on the next page at checkout right below the payment information section.
Lunchbox menu options:
#1 Tuna Fish Sandwich
#2 Roast Beef Sandwich
#3 Corned Beef Sandwich
#4 Turkey Sandwich
#5 Veggie Wrap
#6 Chicken Caesar Salad
Each lunch option includes: 1 sandwich on seedless rye bread, 1 side of coleslaw, 1 pickle, 1 black & white cookie and 1 bottled water. Salad option does not come with pickle and coleslaw. The Veggie Wrap is on a whole wheat wrap.
If you do not want bottled water, please make your substitution option for choice of drink in remarks section at checkout. Your options are:
Coke, Diet Coke, Sprite or Ginger Ale
Related Events