Plaza Suite
April 1 @ 2:00 PM

-

4:00 PM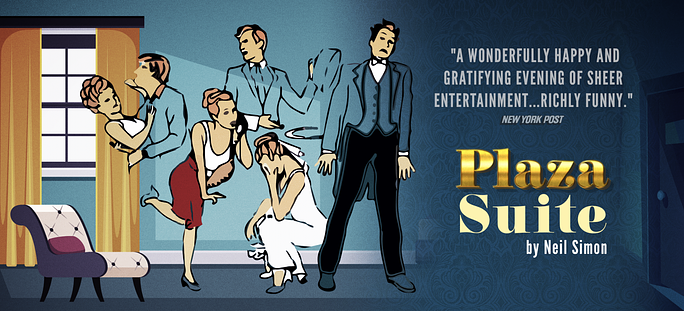 Tickets: $42 or Subscribe for as low as $129!
"Wonderfully funny… the Blockbuster (3rd playlet) is the wildest and most uproarious farce I have seen on a stage." – New York Daily News
"A wonderfully happy, and gratifying evening of sheer entertainment… richly funny." – New York Post 
A Play by Neil Simon
Neil Simon's popular triptych features three different plays set in the same hotel suite: Suite 719 of New York's Plaza Hotel. The first act – VISITOR FROM MAMARONECK – tells the story of Sam and Karen, a couple who are revisiting the site of their honeymoon in the hope of rekindling the passion they felt as newlyweds. The second act – VISITOR FROM HOLLYWOOD – depicts a rendezvous between a movie producer named Jesse Kiplinger and a suburban housewife named Muriel Tate. Muriel thinks Jessie just wants to renew a high-school friendship. She's wrong. The third act  – VISITOR FROM FOREST HILLS – revolves around a couple's efforts to persuade their altar-shy daughter to emerge from the bathroom and go through with the very costly wedding they've prepared for her. Their efforts are Herculean…and hilarious! In fact, it is generally conceded that this is the single funniest scene that Neil Simon ever wrote! Not a small claim to make for America's favorite comic playwright!
Related Events