SARGE
February 25 @ 8:00 PM

-

9:30 PM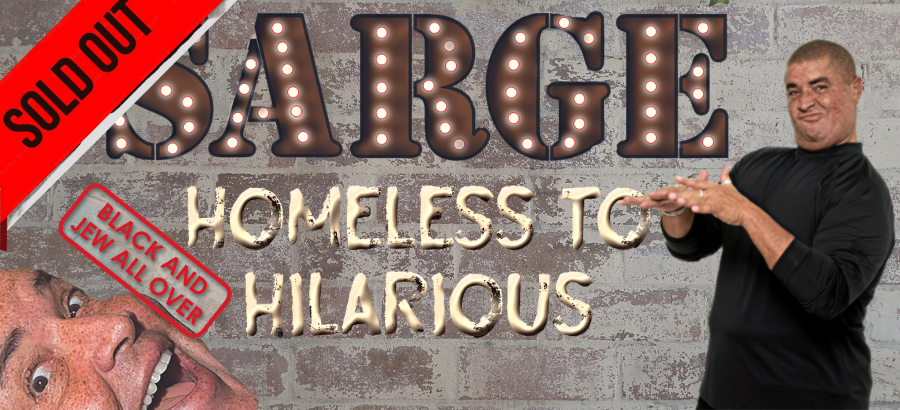 $50 VIP / $40 Premium
Comedian Sarge Is An Entertainer Who Has Performed Worldwide To Adoring Audiences.
As has been proven hundreds of times, SARGE has the rare ability to create an uproarious and moving 90-minute comedic performance on the spot by just walking into a room.
After playing clubs and colleges all over America for three years, SARGE found himself opening for some of the biggest names in music – Natalie Cole, Aretha Franklin, Paul Anka, The Beach Boys, The Four Tops, Taylor Dayne, Donna Summer and Wayne Newton, just to name a few. These high profile gigs enabled SARGE's act to evolve from a comedy appearance to an entertainment performance because he learned to weave his own musical talents into his shows. SARGE has worked on some of the biggest stages in show business. From Radio City Music Hall to Major League Baseball's All-Star Game to entertaining our nation's troops in Iraq, SARGE's ability to improvise and tailor his show to specific audiences is uncanny.
Today, he is one of the highest energy, multi-talented acts to tour. Not only a hysterical stand-up comedian, but also SARGE sings in his own voice and in a dozen others including Harry Connick Jr., Sammy Davis Jr., Lionel Richie and Stevie Wonder. Additionally, his dead on impressions of Marv Albert, Mike Tyson, Kermit the Frog and Gilbert Gottfried leave audiences howling and clamoring for more.
Triple threats who don't dance are hard to find in show business today. With his mix of comedy, singing and piano playing, SARGE is a legitimate triple threat and a rare find!
---
Details
Date:

February 25

Time:

8:00 PM - 9:30 PM

Event Categories:

Website:
Related Events
February 15 @ 2:00 PM

-

3:30 PM

|

Multiple Performances

(See all)

One event on February 16, 2023 at 2:00 PM

One event on February 17, 2023 at 7:30 PM

One event on February 18, 2023 at 2:00 PM

One event on February 18, 2023 at 7:30 PM

One event on February 19, 2023 at 2:00 PM

February 16 @ 2:00 PM

-

3:30 PM

|

Multiple Performances

(See all)

One event on February 16, 2023 at 2:00 PM

One event on February 17, 2023 at 7:30 PM

One event on February 18, 2023 at 2:00 PM

One event on February 18, 2023 at 7:30 PM

One event on February 19, 2023 at 2:00 PM

February 17 @ 7:30 PM

-

9:00 PM

|

Multiple Performances

(See all)

One event on February 16, 2023 at 7:30 PM

One event on February 17, 2023 at 7:30 PM

One event on February 18, 2023 at 7:30 PM

One event on February 18, 2023 at 7:30 PM

One event on February 19, 2023 at 7:30 PM