The Dean Martin Story: A Musical Starring Las Vegas Headliner Drew Anthony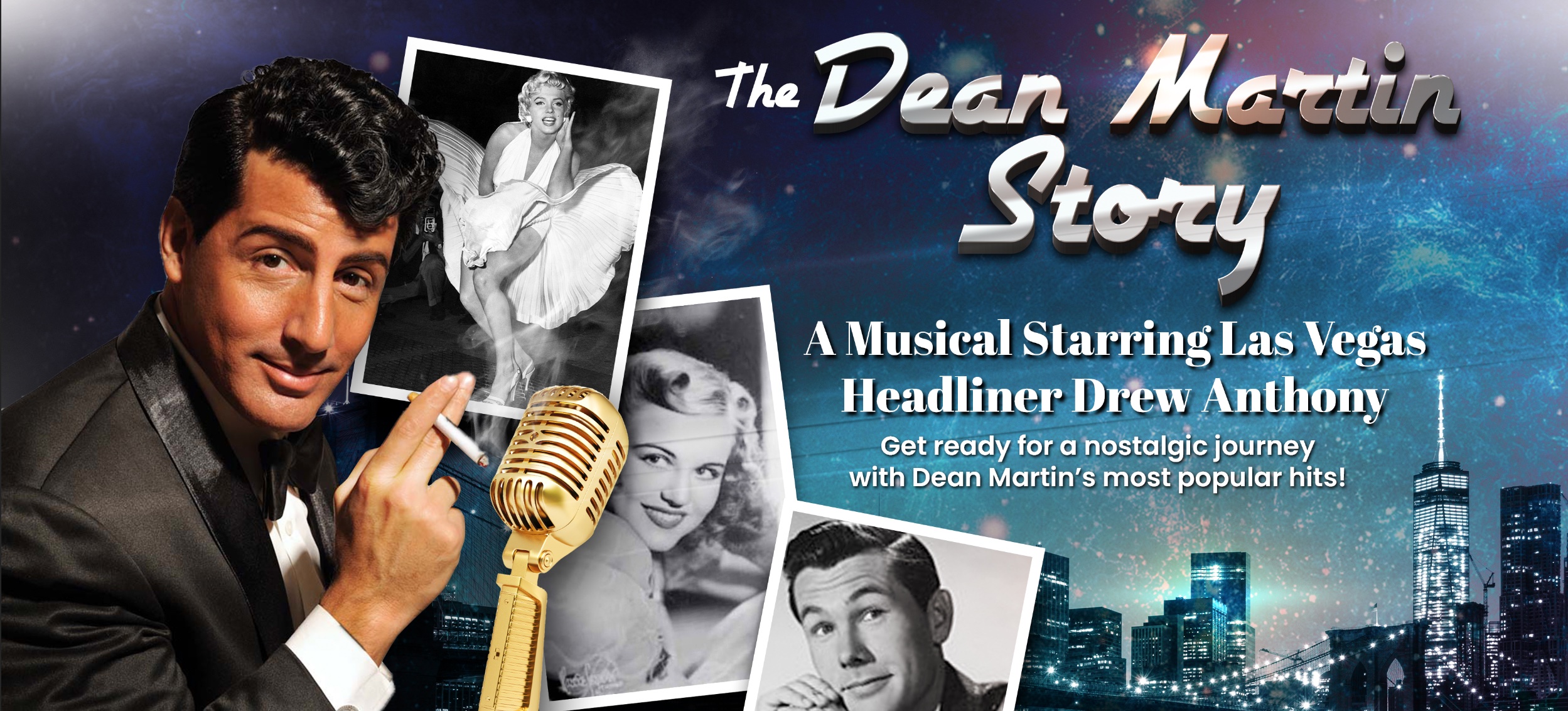 $65 Premium Tickets / $55 Standard Tickets | *Cabaret Seating 
____
FROM LAS VEGAS
THE EDWARDS TWINS PRESENTS
THE DEAN MARTIN STORY
THE MUSICAL
STARRING LAS VEGAS HEADLINER DREW ANTHONY
Headed to Broadway next year, this Musical Covers the Career of Dean Martin and THE DEAN MARTIN SHOW. All the hits you love and remember and performances with some the stars he performed with such, as Jerry Lewis, Johnny Carson, Peggy Lee, Marilyn Monroe and others.
THE STORY! THE MUSIC! THE MEMORIES!
The Dean Martin Story is truly a nostalgic journey you will not want to miss. We'll drink to that!
---
About Drew Anthony: 
After earning his BFA degree in jazz-voice performance from the New School University in New York City, Drew Anthony decided to roll the dice and move to Las Vegas in 2006 to pursue a career singing his lifelong love of the American Standards. Little did he realize that his vocal talent and magnetic stage presence would combine with his undeniable physical characteristics and lead him  directly to the role of a man many people now believe he was destined to portray, Mr. Dean Martin.   It has been an honor for Drew Anthony to have spent the last 10 years depicting one of the most iconic figures in music history in the award-winning, critically acclaimed tribute show "The Rat Pack Is Back."  The Vegas-based show has given him the opportunity to perform in theaters in almost every state in the country, as well as Canada, ultimately allowing him to become one of the world's finest Dean Martin impersonators.  The role is very special to Drew because it has given him the ability to earn a living doing what he loves to do, "I enjoy playing him, I appreciate his work, and I do the very best I can with every performance to be sincere. It is now an even greater privilege for Drew Anthony to announce the latest and most exciting chapter of his career with his very own Dean Martin tribute show "Dean Lives".   accurate & respectful to the memory of Dean Martin."
Related Events