The Delray Beach Playhouse is excited to announce the launch our new Education Program, Playhouse Arts Academy, kicking off this Fall and Spring season of 2022/2023. We have partnered up with BARCLAY Performing Arts to create new and exciting courses of various classes for ALL AGES! Whether you love to sing, dance, act, or are just looking for a creative outlet, we have a class for you! Our impressive selection of classes will attract and welcome artists of all places and ages with the same creative goals. Whether you are a kid just starting out or a seasoned professional, it is never too late to learn something new. Please join us this season and be part of our Playhouse Arts Academy family where we hope to bring the community together while enhancing Delray Beach's arts community. 
 The Spring Semester runs through January 9th – May 21st
CHECK OUT OUR COURSES BELOW: 



*2+ siblings they get a 10% discount: The code is FAMILY.
---

BUBBIES for BROADWAY: 2-Part Course with lunch! (Ages 55+)
Part 1: Musical Theatre for the Young at Heart! 
It's official, the Bubbies are a HIT! Join the fastest growing Senior Show Choir in
South Florida, based out of the beautiful and historical Delray Beach Playhouse!
Each class is taught by BARCLAY professionals and accompanied LIVE on a grand

piano! The Spring semester will focus on the music of the great Cole Porter and
will culminate in a joyful end of the year musical celebration! With each class
packed with wonderful music and a touch of gentle, low-impact movement,
BUBBIES is the perfect class for those looking to keep their body moving, brain
sharp, voice heard and their hearts happy! Come sing your hearts out each
Monday to the timeless tunes of Cole Porter with your new friends and team
BARCLAY at the Playhouse.
Dates: Mondays, 11am-12pm*
Instructor: David Taustine & Keren Lydia

REGISTER HERE
Part 2: Acting & Improv for Seniors! 
Join us for our brand new fantastic Acting & Improv class designed specifically
for the young at heart! Taught by a dynamic team of BARCLAY Instructors, this
Acting & Improv class will be as good for you as it is fun to be in! A dynamic class
packed with brain-sharpening improv games, team building exercises, scene
work from famous plays and musicals and LOTS of laughter, this class is the
perfect way to start your week! Make it a full afternoon by joining BUBBIES for
Broadway at 11, stay for a catered lunch with your friends, then dive into Acting!
Mondays are for our Seniors, all levels of experience are welcome!
Dates: Mondays, 12:30-1:30pm*
Instructor: David Taustine & Keren Lydia
**Save 10% on when you enroll in BOTH classes! 
REGISTER HERE

BUBBIES FOR BROADWAY: Part 1 & Part 2
**Save 10% on when you enroll in BOTH classes!
REGISTER HERE

---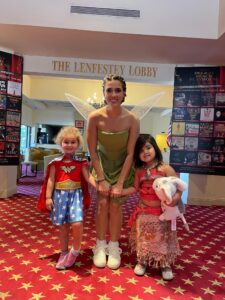 DISNEY EDITION (Ages 3-6)
If you can talk, you can sing! If you can walk, you can dance! Become a Broadway
Baby at the Delray Beach Playhouse by joining our Spring Session DISNEY
EDITION class! In this hour-long class Broadway Babies are introduced to
singing & speech exercises, creative expression, introductory dance & gymnastic
movement and creative storytelling with an extra focus on how to do many of
these things at the same time! This Spring our Disney Edition will get our babies
ready for their end of the year showcase by singing, dancing and/or acting to
favorite Disney tunes as we work our way through Disney History! Introduce your
tiny treasure to the wonderful world of theater while developing gross motor and
speech skills, a love of music, early learning classroom behavior and new friends
all while performing their favorite magical tunes! Take the leap and become a
Broadway Baby today!
Instructor: Keren Lydia
Dates: Mondays, 3:30-4:30PM
REGISTER HERE
---
(Ages 8-15)
Find your voice and train like a Star at the Delray Beach Playhouse this Spring
by joining BARCLAY Performing Arts cast of the classic American musical, BYE
BYE BIRDIE! From January through May students will rehearse at the historic

Delray Beach Playhouse preparing for a vibrant, colorful and poodle-skirt
filled production packed with singing, dancing, and acting! With the technical
excellence of the Delray Beach staff and BARCLAY's top notch production team
including Christine Barclay, David Taustine, Keren Lydia, Tyler Fitch and Jason
Pierre, team BARCLAY's trip to Sweet Apple Ohio in the 50's is guaranteed to be
the energetic and nostalgic pop we all need! Get your hips ready to move and
groove like Conrad Birdie and strap on those dancing shoes as you dive into the
cast BYE BYE BIRDIE and fill your Spring with joy, confidence, and professionally
developed skills! Make history and join BARCLAY's very first Spring children's
show at the Playhouse and find YOUR voice and theatre family with us. All levels
welcome and accommodated and every student receives a featured part!
Director: Christine Barclay
Musical Director: David Taustine
Choreography: Keren Lydia & Tyler FitchProduction Manager: Jason Pierre
Dates: Mondays, 4:45-7:00pm (performance on May 21st) *Includes Saturday
rehearsals
REGISTER HERE

---
(Ages 18+)
Dream of being the next Shakespeare, Wendy Wasserstein, Tony Kushner,
Edward Albee, Lorraine Hansberry, Stephen Sondheim, Neil Simon, Lynn
Nottage, or Lin-Manuel Miranda? Get your Bard on with this course in dramatic
writing. Make that dream a reality by learning the craft from professional
playwright and musical theatre writer Arianna Rose. Open to all levels. You'll
learn the elements of a successful 10-minute play, how to write engaging
characters with specific objectives, how to give and receive feedback, play
formatting, first drafts and rewrites, and where and how to submit your finished
work. There is nothing more thrilling than watching an audience respond to
something YOU wrote. This course will help you achieve that goal, and make you
a better writer, wherever you are with your craft.
Instructor: Arianna Rose
Dates: Tuesdays, 11:00am-1:00pm (8 week course)
REGISTER HERE

---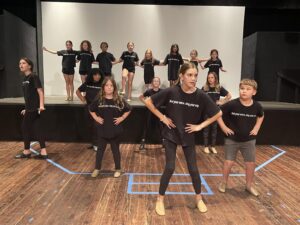 CINEMA STARS EDITION (Ages 7-11
Join the class that built BARCLAY Performing Arts! Not sure if you want to Sing,
Dance, or Act? Do you love movies AND theatre? No need to decide, BARCLAY
at the Playhouse brings you a multifaceted class for students who love the stage
and screen AND who are looking to hone their 'triple threat' skills! In each class
students will participate in a Broadway Jazz & Aerobic style dance warm-up,
Acting, Speech & Singing exercises, play fun and valuable theatre games AND
put together a mini-production for their end of the year showcase that features
songs, dances and scenes from favorite blockbuster musical movies! Held in the
playhouses Black Box surrounded by beautiful props and costumes and taught
by a team of BARCLAY pros, this is the perfect class and location to bring out the
best in each and every student. This class is one of the most popular classes at
BARCLAY- grab your spot before it's gone!
Instructor: BARCLAY Staff
Dates: Tuesdays, 3:45-4:45pm (15 week course *due to block out dates)
REGISTER HERE

---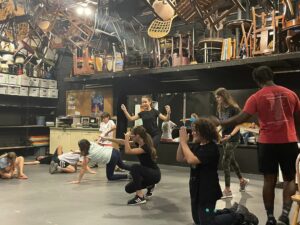 (Ages 11-18)
Ready to PLAY at the Playhouse!? Join one of BARCLAY's most in-demand
classes and get ready to find your voice and dial up the JOY in your life this
Spring! Develop confidence and speech through skill-building theatre & improv
games, ensemble exercises, and lots of laughter! Each class balances high-energy,
creative and important ensemble exercises and theatre games with
concrete and foundational skills necessary for any budding actor! With the
semester culminating in a showcase featuring a short play that the class will
develop together throughout the semester, Kids Acting & Improv is the ideal
class for the budding actor, comedian, social butterfly or community seeking
introvert! A curriculum developed 4 years ago and taught by everyone's favorite
Mr. Jason, Kids Acting & Improv promises to be the highlight of your week!
Instructor: Jason Pierre
Dates: Wednesdays, 6:00-7:00pm
REGISTER HERE

---


2 sessions: Teen OR Adult
This eight-class course will be an intricate study of the fundamentals of screen
or "on-camera" acting techniques. We will expand upon the participants' theatre
foundation into the various techniques used in on-camera performance. Through
voice and movement exercises, improv, script analysis, on-camera assignments as
well as constructive notes and classroom discussions of on-camera performances;
students will gain the essential foundation of on-camera acting tools and
techniques necessary for multi-faceted, skilled performances. Participants
will walk away with examples of their work for use online and for professional
submissions.
Instructor: Jeremy Quinn
Session 1: Teens (12-18), January 11-March 1, Wednesdays 7:00-9:00pm *8-week course
Session 2: Adults (18+), March 8-May 3, Wednesdays 7:00-9:00pm *8-week course

TEENS:
REGISTER HERE
ADULTS:
REGISTER HERE 
---

*More information coming soon. 
---
Want to be part of our Playhouse Arts Academy?
Register online or call the Box Office at (561) 272-1281