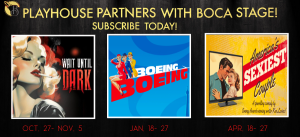 THE PLAYHOUSE PARTNERS WITH BOCA STAGE!
This 2023/2024 season, The Delray Beach Playhouse and Boca Stage are teaming up to introduce a BRAND NEW Off-Broadway subscriber series! Starting in October, Boca Stage will be performing ALL THREE shows in their long standing Off-Broadway series in the Cabaret Room at The Playhouse! Subscriptions are available now, offering many different packages.
The Boca Stage OFF-BROADWAY SUBSCRIPTION SERIES includes: 
WAIT UNTIL DARK (October 27- November 5) | BOEING BOEING (January 18- 27) | AMERICA'S SEXIEST COUPLE (April 18- 27)
WAIT UNTIL DARK:
By Frederick Knott | Adapted by Jeffrey Hatcher | Directed by Keith Garsson
Forty-seven years after Wait Until Dark premiered on Broadway, Jeffery Hatcher adapted Frederick Knott's 1966 original, giving it a new setting. In 1944 Greenwich Village, Susan Hendrix, a blind but capable woman, is imperiled by a trio of men in her own apartment. As the climax builds, Susan discovers her blindness just might be the key to her escape. 

BOEING BOEING:
By Marc Camoletti | Translated by Beverly Cross and Francis Evans | Directed by Keith Garsson
This 1960s French farce features a self-styled Parisian lothario, Bernard, who has Italian, German, and American fiancées, each a beautiful airline hostess with frequent 'layovers'. He keeps "one up, one down, and one pending" until unexpected schedule changes bring all three to Paris, and to Bernard's apartment, at the same time.
AMERICA'S SEXIEST COUPLE
Written by Ken Levine | Directed by Genie Croft 
Two actors, who were 'America's Sexiest Couple' on a popular '90s sitcom reunite for the first time in 25 years. They face a lifetime of unresolved issues, longings, resentments, and regrets. Plus, the network wants to reboot the show. Career and personal aspirations collide – professionally and personally, where do they go from here?

SUBSCRIPTION INFORMATION:
THURSDAY NIGHT SUBSCRIPTIONS (click here)
(Included events in package: Wait Until Dark – Thursday, October 26, 2023 @ 8:00pM | Boeing Boeing – Thursday, January 18, 2024 @ 8:00pm |  America's Sexiest Couple – Thursday, April 18, 2024 @ 8:00pm)
FRIDAY (WEEK 1) SUBSCRIPTIONS (click here)


(Included events in package: 

Wait Until Dark – Friday, October 27, 2023 @ 8:00pm | Boeing Boeing – Friday, January 19, 2024 @ 8:00pm | America's Sexiest Couple – Friday, April 19, 2024 @ 8:00pm)
SATURDAY MATINEE (WEEK 1) SUBSCRIPTIONS (click here)
(Included events in package: Wait Until Dark – Saturday, October 28, 2023 @ 2:00pm | Boeing Boeing – Saturday, January 20, 2024 @ 2:00pm | America's Sexiest Couple – Saturday, April 20, 2024 @ 2:00pm)
SATURDAY NIGHT (WEEK 1) SUBSCRIPTIONS (click here)


(Included events in package: 

Wait Until Dark – Saturday, October 28, 2023 @ 8:00pm | Boeing Boeing – Saturday, January 20, 2024 @ 8:00pm | America's Sexiest Couple – Saturday, April 20, 2024 @ 8:00pm)

FRIDAY NIGHT  (WEEK 2) SUBSCRIPTIONS (click here)
(Included events in package: Wait Until Dark – Friday, November 3, 2023 @ 8:00pm | Boeing Boeing – Friday, January 26, 2024 @ 8:00pm | America's Sexiest Couple – Friday, April 26, 2024 @ 8:00pm)
SATURDAY MATINEE  (WEEK 2) SUBSCRIPTIONS (click here)
(Included events in package: Wait Until Dark – Saturday, November 4, 2023 @ 2:00pm | Boeing Boeing – Saturday, January 27, 2024 @ 2:00pm | America's Sexiest Couple – Saturday, April 27, 2024 @ 2:00pm)
SATURDAY NIGHT  (WEEK 2) SUBSCRIPTIONS (click here)
(Included events in package: Wait Until Dark – Saturday, November 4, 2023 @ 2:00pm | Boeing Boeing – Saturday, January 27, 2024 @ 2:00pm | America's Sexiest Couple – Saturday, April 27, 2024 @ 2:00pm)
SUNDAY SUBSCRIPTIONS (click here)
(Included events in package: Wait Until Dark – Sunday, October 29, 2023 @ 2:00pm | Boeing Boeing – Sunday, January 21, 2024 @ 2:00pm | America's Sexiest Couple – Sunday, April 21, 2024 @ 2:00pm)
_____